The $3 Target Buy That Makes Me a Cool Mom the Whole Month of October

I am one of those people who loves Halloween. Very much so. I loved all the crafting, decorating, and dress-up that goes into the holiday way before I had kids, and now that I do and they're old enough to get into the holiday, we really go into Halloween overload.
It starts October 1, with planning what they'll wear and what we'll serve for our neighborhood trick-or-treating party — and, let's be honest, epic tantrums when I refuse to buy things like 12-foot-tall, red-eyed howling werewolves at Home Depot. See, I believe that Halloween decor should be homemade, age-appropriate, and, ideally, inexpensive.
Enter these $3 heroes: candy eyeballs. These babies first came onto my radar about three years ago, when we started with class parties for the pre-pre-k class. I found them at Target and I now turn to them every year. They're the easiest update for just about any kind of treat. Stick them on store-bought cupcakes and people think you're some kind of home-cook genius (white cupcakes for ghosts; green or purples ones for monsters; black cupcakes with lots of eyes for spiders).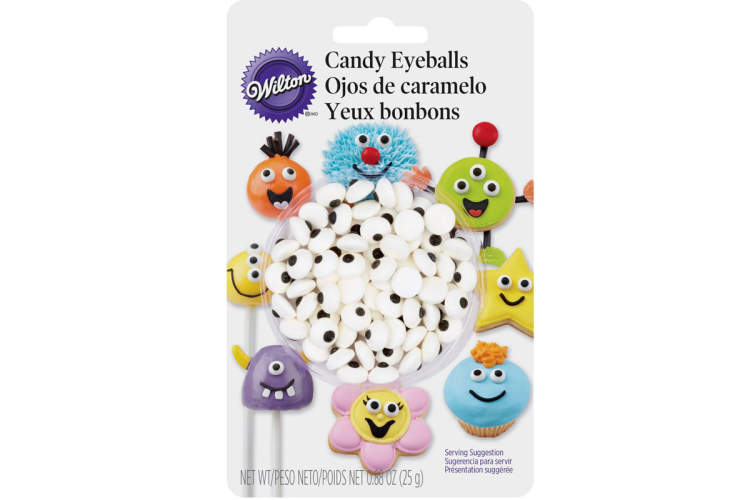 Target
Wilton Candy Eye Balls
They're meant as toppers for cupcakes and other sweets, so they work as a sugary addition to Rice Krispies Treats or cookies or brownies or whatever. But my kids will eat them off of anything, so feel free to make mashed-potato ghosts, spinach monsters, or to put a couple eyeballs on top of a morning smoothie. I can do this dozens of times and it's still a surprise and delight every single time for my two girls.
Find them on Amazon for even less: Wilton Candy Eyeballs, $2.50
So next time you're at Target (they carry them at many grocery stores, too, including my local Food Lion and Harris Teeter), stock up. They tend to sell out around Halloween time, but I've started buying packs during other months, whenever I see them, and trying this trick whenever I worry meals might be off to a rough start. So far, it's working.
Do you have any little tricks like this? Tell us about them in the comments below!
We independently select these products—if you buy from one of our links, we may earn a commission.
Published: Oct 1, 2018