The $15 Organizer That'll Tame Your Kitchen's Most Prolific Problem

Every kitchen has its own unique drawbacks and quirks — especially if you're renting. Poor lighting? Ugly cabinets? Refrigerator in the living room? We've seen it all (and we have solutions!). Still, regardless of your particular kitchen woes, there are some issues that are universal. Pretty much everyone wants more counter space, more storage … and a solution for this pesky and prolific problem.
We're talking about plastic bags. You know the ones you seem to acquire even though you bring your own reusable totes with you to the grocery store? You feel bad about throwing them away, so you designate a plastic bag for your plastic bags and it's all fine until you realize that your plastic bag collection is taking over an entire cabinet and, well, cabinet space is precious stuff.
Here's what you do: First, get yourself a proper plastic-bag organizer, like this simplehuman Wall Mount Grocery Bag Dispenser.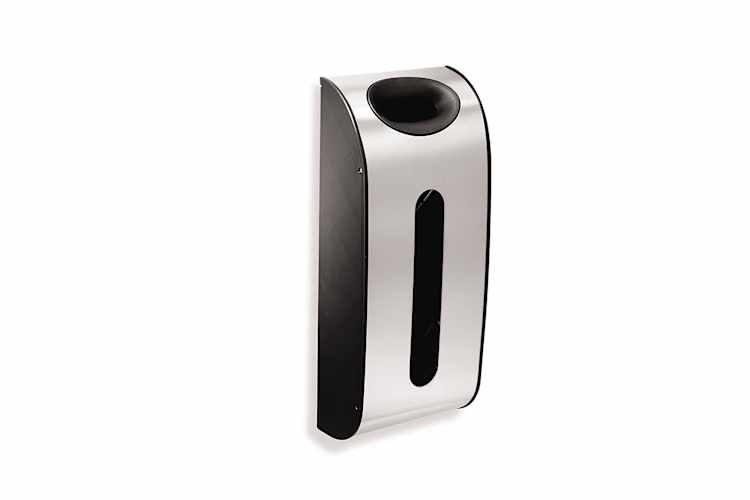 Amazon
simplehuman Wall Mount Grocery Bag Dispenser
It mounts to your wall, or under a shelf, or inside a cabinet if you want it out of sight, with either screws or adhesive tabs. And it keeps up to 30 plastic bags tucked out of the way — but also readily available for you to use. (You just stuff them in the top and pull them out the opening — kind of like tissues.) Because that's why you're saving them, right? To actually use them and not just collect them until they take over your kitchen.
And they do come in handy! Here are a few ideas for how to use those bags up.
Use them to line small trash cans (like the ones in your bathroom!).
Use them to wrap your shoes when you travel.
Use them to pack your lunch, and use two if your lunch is extra-pungent.
Use them to pick up your dog's "business" or line your kitty litter box.
You can even turn them into "plarn" (that's plastic yarn) and knit with them.
What's your favorite way to upcycle plastic bags?
We support our readers with carefully chosen product recommendations to improve life at home. You support us through our independently chosen links, many of which earn us a commission.
Published: Jan 3, 2019