How To Make Honey-Glazed Ham in the Slow Cooker


My father in-law is not a big fan of turkey and makes his love of ham at the holidays well-known. Honestly, I can relate. So we started adding a ham to the family holiday menus about five years ago, but as the host (and cook), I ran into a problem: How can I season and heat a ham while all the side dishes are hogging the oven time? Slow cooker ham is the solution!
Since most holiday hams come fully baked, all I have to do is load it into the slow cooker in the morning to have ham in time for lunch. As another bonus? The slow cooker can be set to warm, so the ham stays moist while we wait for that one sister-in-law who is always late.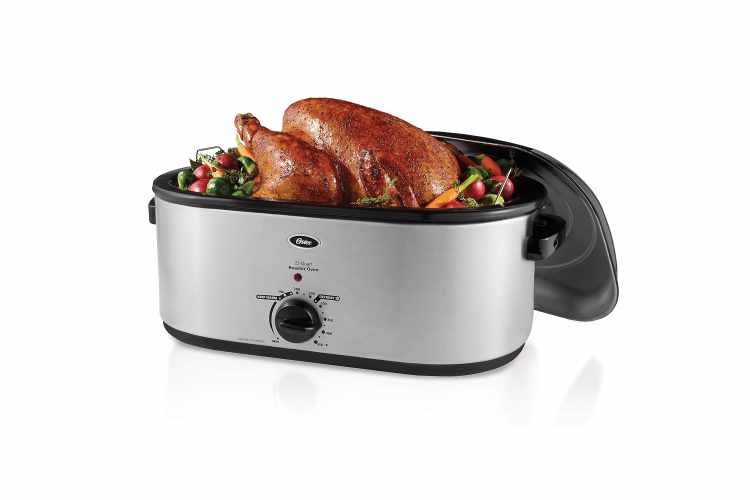 Amazon
Oster Roaster Oven with Self-Basting Lid, 22-Quart
Why a Slow Cooker Honey Ham Is the Best Ham
Spiral-cut ham isn't something I've always loved. The glaze can be overly sweet, and the texture of the meat can be unpleasantly chewy. This recipe avoids both pitfalls with a custom not-too-sweet glaze and a slow cooker method. The low, slow heat of the slow cooker gently braises the ham, making it the most tender you'll ever eat.
Beyond how much better a slow cooker ham is than an oven-baked ham, cooking the ham in the slow cooker eliminates some of the challenges of serving a ham alongside your holiday roast.
3 Reasons Why a Slow Cooker Ham Is Better
No need for oven space.
No need to baste or brush; you can set it and forget it.
Makes a more tender ham.
This recipe calls for a 8- to 10-pound spiral cut ham.
Cook that ham on LOW for 4 to 5 hours, basting with glaze whenever you remember to.
Buying the Right Ham for the Slow Cooker
Whole spiral-cut hams are most famously known from the Honey Baked Hams brand, but this type of ham can also be found in almost every major grocery store or at your local butcher. City hams, as they are also known, are a leg of pork that's cured and sometimes smoked before being cooked and spiral-cut.
Look for a spiral-cut ham that is fully cooked (it must be labeled as such) and has the bone in. Butt-end hams tend to fit into slow cookers more readily, but their bone is a little trickier to slice around. Consider the size of your slow cooker when shopping for your ham. A 10-pound ham is as big as you can go for a six-quart slow cooker.

Making a Glaze for the Slow Cooker Ham
The glaze is an opportunity to add considerable flavor and texture to the ham, so we suggest making your own. I find a mixture of brown sugar, honey, mustard, and cloves hits all the sweet, warm, and tangy flavors that are familiar and comforting on ham. Plus, these ingredients thicken as they cook, making a sticky-sweet sauce to spoon over the slices when serving.
What about the glaze packet? Most fully cooked hams also come with a packet of glaze mix that is essentially brown sugar and spices, which you add water to. There is nothing really wrong with this glaze mix, and you can in fact use it to cook your ham with the following method too.





How To Make Honey Ham in the Slow Cooker
Serves10 to 12
Prep time: 10 minutes
Cooking time: 4 hours to 5 hours
Ingredients
3/4

cup

packed light brown sugar

1/2

cup

honey

1/2

cup

water

1/4

cup

Dijon mustard

10

whole cloves

1

(8- to 10-pound) spiral cut ham
Equipment
Measuring cups and spoons

Small saucepan

6-quart or larger slow cooker

Baster or brush
Instructions
Make the glaze. Combine the brown sugar, honey, water, mustard, and cloves in a small saucepan and bring to a simmer over medium-high heat. Cook until the glaze is homogeneous and fragrant from the cloves, about 5 minutes. Remove the cloves with a spoon.

Prepare the ham. Place the ham in a 6-quart or larger slow cooker, making sure you can put the lid on. You may have to turn the ham on its side, or trim a bit off the top if your ham is too large. Gently pull apart the ham's slices and separate them.

Add the glaze. Pour the glaze over the ham, trying to cover as much of the ham as possible, but not worrying too much, as the glaze will fall back into the slow cooker.

Cook and baste the ham. Cover and cook on the LOW setting for 4 to 5 hours. Every hour (or as you remember), baste the ham with the glaze. You can also flip the ham halfway through cooking, if desired. The ham is ready when it reaches an internal temperature of 140°F. Serve with the thickened glaze.
Recipe Notes
Make ahead: The glaze can be made up to 3 days ahead and stored in the refrigerator.
Storage: Store leftover ham in its juices in an airtight container in the refrigerator for up to 5 days.
We independently select these products—if you buy from one of our links, we may earn a commission.
Published: Dec 12, 2018