How To Make the Best, Easiest Homemade Guacamole

With the Super Bowl just around the corner, it's time to put your chip and dip game plan into action. Whether you host a living room full of rabid fans or just a few friends who show up for the snacks, the surefire way to win at any game day gathering is to serve a bowl of homemade guacamole. Buy thick-cut tortilla chips to carry the weight of large scoopfuls, and give this dip the setting it deserves: the coffee table's 50-yard line.

You Only Need 5 Ingredients for the Best Guacamole
Choosing your guacamole mix-ins, which can range from more common (onions, cilantro, tomatoes, and chile peppers) to more unusual (green peas, bacon, and fruit), is entirely up to you. But keep in mind that while an unexpected ingredient can be fun at times, a classic guacamole is more likely to please the entire crowd of chip-dippers. For that reason, I prefer to keep mine classic, which also makes it the easiest to whip up. In fact, you only need five ingredients for my all-time favorite guacamole: avocados, garlic, lime, red onion, and jalapeño pepper. Because cilantro is so controversial, I skip it altogether.
To make the guacamole, you'll peel and pit the ripe avocados, then scoop the avocado flesh into a bowl with garlic paste, my secret ingredient that makes this guacamole so much better than your average dip (more on how to make it below). You'll then stir in the finely diced red onion and half an unseeded jalapeño pepper. The amount of red onion might not seem like much, but since it's raw, the flavor will intensify as it sits. A squeeze of fresh lime juice brightens the dip. You'll mash the dip with a fork or a potato masher, and you can make it as creamy or chunky as you like. I like to leave it relatively chunky if I'm serving it straight up with tortilla chips.
3 Key Steps for Homemade Guacamole
Ripen avocados at home. I buy my avocados rock hard several days before I need them, ensuring I won't be forced to buy avocados that are too hard or too mushy day-of, or that I'm not left with bumps, bruises, and brown spots from squeeze-happy shoppers in the produce department. Left on the counter, the avocados will ripen in a few days (quicker if bananas and tomatoes are nearby). Everyone has their own foolproof way to determine an avocado's ripeness, but I look for a darkened peel and fruit that gives slightly when gently pressed at the top and bottom (not around the equator). Once they reach peak ripeness (and they might not all ripen on the same day), transfer them to the refrigerator to suspend the ripening process.
Make garlic paste. Garlic paste has a gentler, less biting flavor than chopped garlic, which is desirable when serving it raw. Bonus points for the paste's ability to incorporate easily into the guac, eliminating the risk of biting into a chunk of raw garlic. To make it, you'll mince the garlic, sprinkle with kosher salt, crush the mixture with the side of a chef's knife, then run the knife over the garlic and salt several times until smooth.
Cover completely to avoid browning. Unless preparing guacamole tableside is part of your plan, you'll want to have a plan for storing the guacamole before you break out the chips — and in the unlikely event of leftovers. Air exposure turns green guacamole brown, so cover it with a thin layer of water or transfer to an airtight container and press a layer of plastic wrap directly onto the dip before snapping on the lid. Or, invest in this handy guac saver.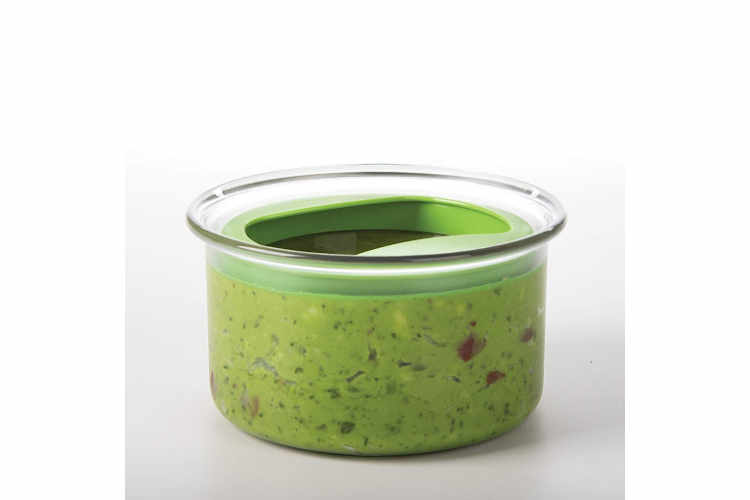 Amazon
Prepworks by Progressive Fresh Guacamole ProKeeper






Guacamole Recipe
Makes2 1/2 cupsServes8 to 10
Ingredients
2

large garlic cloves

1

teaspoon

kosher salt

4

ripe medium avocados

1/4

cup

freshly squeezed lime juice (from about 2 limes)

1/4

cup

finely chopped red onion (from 1/2 small red onion)

2

tablespoons

finely chopped unseeded jalapeño pepper (from 1 small jalapeño, optional)
Equipment
Chef's knife and cutting board

Spoon

Citrus juicer or reamer

Large bowl

Fork or potato masher

Serving bowl
Instructions
Make garlic paste. Place the garlic on a cutting board and mince. Sprinkle the salt over the garlic. Holding the blunt side of the knife with both hands, press and scrape the sharp end of the knife against the pile of garlic at an angle to flatten the garlic and smash it against the cutting board. Scrape the garlic back into a tidy pile and repeat, pressing and scraping the knife through the pile, until you have a smooth paste, 2 to 3 minutes. Transfer the garlic paste to a large bowl.

Pit and peel the avocados. Cut the avocados in half lengthwise, then remove and discard the pits. Scoop the avocado flesh into the bowl with the garlic paste and discard the peels.

Mash with the lime juice and red onion. Add the lime juice and red onion, then use a fork or potato masher to mash to desired consistency.

Stir in the jalapeño (optional). Stir in the jalapeño, if using. Serve immediately.
Recipe Notes
Storage: Refrigerate in an airtight container covered with a thin layer of water or with a layer of plastic wrap pressed directly on the surface of the guacamole for up to 4 days.
We support our readers with carefully chosen product recommendations to improve life at home. You support us through our independently chosen links, many of which earn us a commission.
Published: Jan 8, 2019