The $15 Condiment That Giada and I Both Can't Live Without
We all want to be at least a little like Giada, able to effortlessly whip up luscious Italian feasts. That's why the internet is full of lists divulging what the Food Network star stocks in her pantry. So what's the one ingredient that always ranks at the top? Calabrian chiles.
Giada puts these crushed, oil-packed spicy chiles in pasta, hummus, marinades, even butter for her popcorn. She can't live without them, which means we actually have something in common — because neither can I.
What Are Calabrian Chiles?
Calabrian chiles are native to Calabria, a region in the southwest tip of Italy, where they're a beloved staple of the cuisine and have even spawned a festival and a nickname (devil's kiss chiles). What makes them special is their flavor — bright and fruity rather than vegetal — and their spicy heat persists with a warm, pronounced glow instead of a sharp, searing burn. A devil's kiss indeed.
Where to Find Calabrian Chiles and How to Use Them
I first had Calabrian chiles almost 10 years ago on a blistered Neopolitan-style pizza at Ken's Artisan Pizza in Portland, Oregon. After that first chile-strewn slice I was hooked, and my fridge has never been without a jar since. It's hard to find the crushed chiles, even in the fancy-pants markets in town, so I usually order my jars online. I add a scoop to every bowl of pasta and soup, and spread it onto sandwiches (my kids demand it on fried egg sandwiches with cheddar cheese).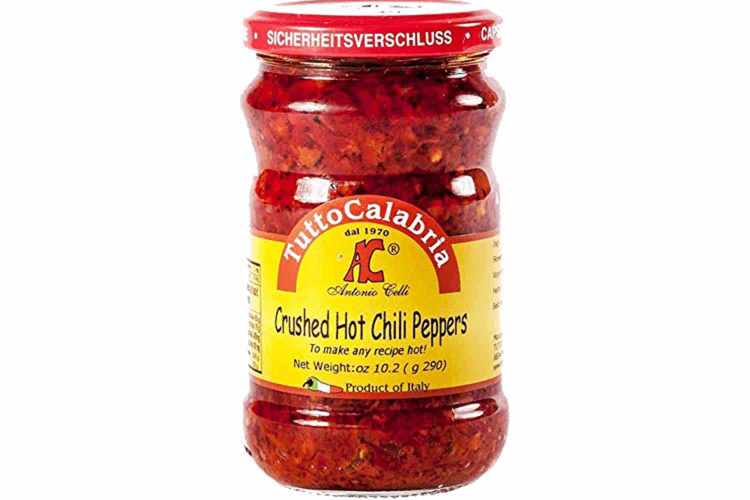 Amazon
Tutto Calabria Crushed Calabrian Peppers
Giada's go-to brand (and mine) is Tutto Calabria, founded back in 1970 in the heart of the growing region. It was one of the first companies to package Calabrian chile products and spread the spicy gospel. Both Giada and I prefer the extremely versatile crushed chiles in oil, which also has a smidge of vinegar and a few herbs. But the company also makes a spread that includes eggplants, mushrooms, and tomatoes, as well as whole chiles packed in oil, and dried chile flakes.
Granted, I pay a whopping $12 to $15 for these imported jars, which cost about 5 euros in Italy. It hurts to pay so much, but buying them is non-negotiable now. Take it from me and Giada — your pantry's not complete without a jar of Calabrian chiles.
We independently select these products—if you buy from one of our links, we may earn a commission.
Published: Jun 5, 2019