Next Week's Meal Plan: 5 Dinners to Get You Excited for Fall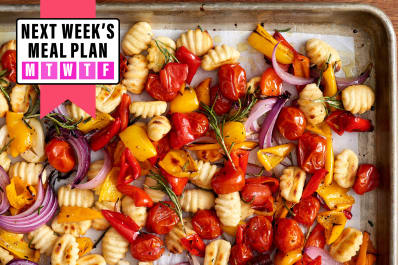 (Image credit: Joe Lingeman | Kitchn)
Do you feel that little bit of crisp coolness in the air yet? Temperatures near us have finally dropped, making me crave hearty soups and comforting sheet pan meals. Even though it isn't officially fall yet, I'm still planning this week's dinners around some of my family's fall favorites. Consider this week's meal plan the official welcome wagon.
Welcome to This Week's Meal Plan
I believe meal planning is the secret to stress-free weeknight dinners. Since I'm frequently asked by friends and family what I'm cooking for dinner each week, I share my weekly meal plan here. Whether you're just learning to meal plan and looking for a real-life example of how this works or you're an old pro on the hunt for inspiration, here's a peek at how I'm feeding my family this week.
New to meal planning? Start here.
(Image credit: Joe Lingeman)
I had completely forgotten about this easy sheet pan recipe since last fall. And while it totally hits all the marks of cozy comfort food it also works well with any end-of-summer produce — ahem, zucchini — that you might still be trying to use up. Double up on the peppers and onions at the grocery store for this recipe and Thursday's.
(Image credit: Joe Lingeman)
Chili seems like too obvious a fall favorite to include this early in the season, but this one-pot soup hits all the same flavor notes with the ease of taco Tuesday. My sometimes-picky eaters will get simple cheese quesadilla to dip in their soup instead of chips.
These beans are the request of my first grader who is in love with our slow cooker version. Serve these beans over hearty toast with a simple green salad and they are way fancier than opening up a can.
(Image credit: Joe Lingeman)
I feel 100% sure that we ate this exact meal on this exact Thursday one year ago because its our school's PTA back-to-school night. I can start these before we leave for the fun and games at school, and dinner will be ready when we get home.
(Image credit: Joe Lingeman)
Pizza is pretty cozy itself, but this polenta crust pizza is extra cozy and feels perfect for a Friday fall evening. We're going to skip the cherry tomatoes and use up last night's peppers, sausage, and onions.
Click below to get more tips, insights, and ideas from our Meal Plan Club crew and readers like you.
Join Our Meal Plan Club Facebook Group